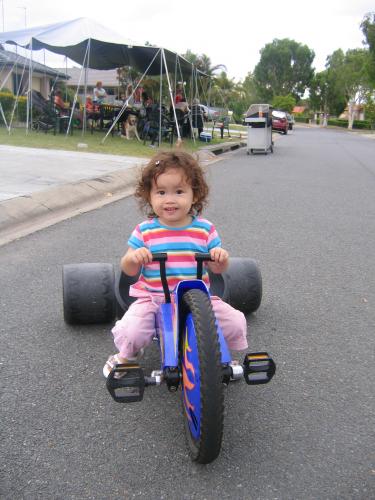 Claire, a spiritual inspiration to all
In death Claire has been assisting the wonderful research programs into SUDC (Sudden Unexplained Death in Childhood) run by Dr. Henry Krous of the San Diego's Children's Hospital in the USA and by Dr. Roger Byard of Adelaide University's medical research department in Australia.
In life Claire brought joy to all whose paths she crossed, animals and humans alike. She had a spiritual awareness far beyond that of most people. In May of 2008, while she was in Taiwan, Buddhist nuns and monks bowed to her, against common custom, as they recognised her spirituality. The preceding Christmas Claire did a wonderful job of welcoming the baby Jesus during a Church pantomime.
Despite her tender years Claire provided a huge inspiration to others because of her happy, positive nature and a total lack of selfishness that is very rare in young children. She was always happy to share with others and offer comfort where she could. If the vast majority of humanity followed her example the world would be a much better place.
A Thousand Winds
(Unknown Author)
Do not stand at my grave and weep;
I am not there. I do not sleep.
I am a thousand winds that blow.
I am the diamond glints on snow.
I am the sunlight on ripened grain.
I am the gentle autumn's rain.
When you awaken in the morning's hush,
I am the swift uplifting rush
Of quiet butterflies in joyous flight.
I am the soft stars that shine at night.
Do not stand at my grave and cry;
I am not there. I did not die.